The establishment of a specialised area selling fashion products along a section of Le Duan Street, between its intersections with Tran Phu and Ong Ich Khiem streets, began at the end of August and is expected to be completed by the end of December.
Mr Nguyen Dang Huy, the Head of the city's Rural Transportation Management Unit responsible for managing the project, said that aesthetics and comfort are decisive factors in ensuring the success of the new shopping area. He added that the existing kerbs will be replaced, but the width of the pavement will remain unchanged. However, the existing pavement tiles along the section will be replaced by pre-cast terrazzo ones to give high aesthetic value. In addition, the existing trees along the section will be replaced by Madagascar almonds, with diameters of between 10cm and 15cm, and the planted areas will be covered by lids made of fibre-reinforced plastic, a composite material with high aesthetic value, to create a safe and comfortable space on the pavements for pedestrians. Parking spaces for motorbikes will be created next to the new kerbs.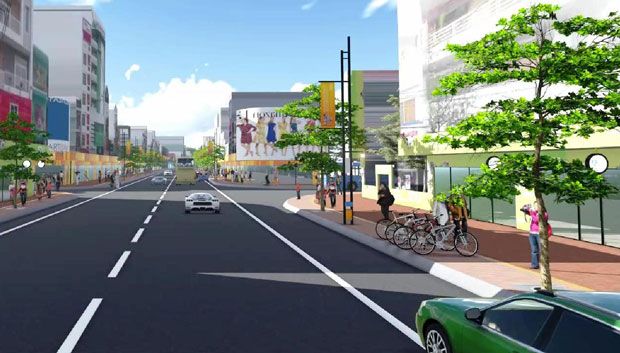 Also, the existing lighting system along the section will be replaced by LED (light-emitting diode) lamp-posts. Signposts, litter bins, decorative lights and benches where people can sit to relax or sightsee will be positioned along the pavements. Specific regulations about the colour and size of the fashion shops' billboards will be issued soon.
Following recent approval by the city authorities, all types of trucks will be banned from the section during rush hours, and trucks over 3.5 tonnes are not allowed at any time. Cars, 24-seater vehicles and tourist coaches will be required to park in designated spaces on Chi Lang Street.
Baodanang.vn