Da Nang's new Administration Centre, designed by South Korea's Mooyoung Architects and Engineers Company, was officially inaugurated today (8 September).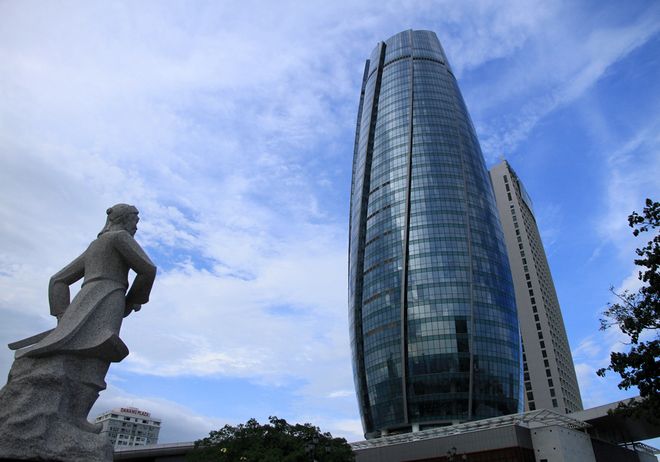 The building's core structure, with a diameter of 19.22m, plays a vital role in making the construction strong and sturdy as well as creating airy spaces inside.
Of special interest, the 5thand 34thfloors of the building feature large sail-shaped steel domes, unlike any others in Viet Nam. All the equipment incorporated in the building is modern, environmentally friendly, and highly energy-efficient. Thanks to this advanced equipment, the building is expected to consume between 10% and 25% less energy than comparable buildings. The operation of the new centre, with its 1,500 employees, is controlled by an overall management software system.
The imported shatter-proof glass forms the outer wall of the centre, and it helps to create open spaces, converge reflected light, and integrate artistic lighting effects into the building at night. The glass can withstand high winds and it meets specifications about heat dissipation and thermal radiation.
The new building has 14 elevators installed in its core structure, all manufactured by Germany's Schindler Group. Of this, 3 exclusively serve the operation of the municipal People's Committee and the working rooms of the city's leaders. Ten more are used by staff of the local departments, and the one other, which has a maximum speed of 4m/s, is for use in case of emergency.
The air-conditioning, lighting and water supply systems, elevators and other electrical and mechanical engineering systems of the building are under the control of the Intelligent Building Management System (iBMS). Surveillance cameras are installed in the building's lobby, entrance and exit areas, and elevators in order to allow better management and protection of the building. Fire prevention equipment, fire alarms and fire fighting equipment are installed in the building, and the centre's employees are issued with cards incorporating their personal information for identification when they enter or leave the building.
The building's metropolitan area network (MAN) plays a vital role in managing all the telecommunications and information technology activities. The centre is equipped with land-based high-speed Internet access technologies including xDSL and FTTx, along with high-definition Internet protocol television (HD: IPTV) services, in-building coverage solutions, and other useful systems. The building's core network, which is the central part of the telecommunications network, provides various IT and telecommunications services as well as facilitates the operation of the iBMS.
Translator: Minh Quan